Male dominance in the Iranian film industry is crumbling since women started to publicise their accounts of sexual harassment and abuse. Will such disclosures lead to an organised struggle against sexual violence at the work floor? Iranian filmmaker Shaghayegh Norouzi answers our questions as an outspoken #MeToo activist.
Iranian actress and director Shaghayegh Norouzi is an active participant of Iran's #MeToo movement. I met Shaghayegh through the director Mania Akbari who reached out to the Flying Broom International Women's Film Festival to spread the news about the #MeToo movement in Iran. With women speaking out on social media to publicise their accounts of sexual assault, the movement is growing rapidly in Iran. Shaghayegh and her friends are strengthening the voices of women from every field, especially in the film industry. Shaghayegh worked as an actress in Iran for twelve years. She has been subjected to various forms of harassment since the first day she started her career. In the last four years she lived in Iran, Shaghayegh started making short films and now she prefers to call herself a filmmaker. After living in Barcelona for two years, she is working on films focusing on the concept of womanhood based on her own experiences. I interviewed Shaghayegh on Zoom, where she talked about her own experiences and the #MeToo movement in Iran.
You have a long acting career in Iran as an actress. Now you are directing films. How did you step into the industry?
I worked as an actress for twelve years in my country. I studied drama and theatre. Actually I found a job so fast that I started my career very early. When I started working at my first professional job for a long television series, I was only a sophomore at my 21. In the last years that I was living in Iran, I started to write and direct short films. I made four short films and I found myself in this field. Especially, shooting a documentary is a very interesting challenge for me. Now, if I need to introduce myself, I see myself more as a filmmaker.
There has been a wave in Iran for a while, a movement that is called 'Iranian #MeToo'. We have started to see it in international press especially in recent months. We see the power of social media. We hear things are changing. Can we hear it from you as an Iranian filmmaker and an active advocate of #MeToo?
I want to start with a little bit of my own story. I want to talk about sexual harassment before #MeToo. I worked in about 20 projects in my country and unfortunately I have faced harassment since my very first job. I was in the title role and I very proud of myself because I was only 21 years old. Sexual harassment has always been bad of course, but this was systematic. It wasn't just one person or an incident. I couldn't see this at such a young age. It was a very traumatic experience for me – from my first job, from the very first moment of my professional life, until the day I left the country. I'm telling you a bit of my own story because, right now, we hear the stories of other women in #MeToo movement and realise how much we don't talk, how similar stories we have, and how much we actually can share. We see that, by sharing our stories, we can gain strength from each other and stop this harassment system. Until I left my country, I was never able to share my own story. I found this strength in myself when I got here to Barcelona. This point is really important. It shows how valuable the work of women who are currently in Iran is. It shows how crucial it is that they share their stories. It shows how brave they are.
Until I left my country, I was never able to share my own story. I found this strength in myself when I got here to Barcelona. This point is really important. It shows how valuable the work of women who are currently in Iran is.
I mentioned systematic abuse, let me open it up a little bit. The law protects systematic abuse. In a way society also protects it. First of all, people don't think that what is done on the abusive side is a bad act. It is quite complicated and problematic for women to talk and publicise their experiences in Iran. But now they do talk. I know that other women started speaking before me; a few actresses gave testimonies. Later on, other women in other fields started to speak out. In this context, what journalist women did was very important. Their testimonies and organisations came to the fore. However, despite these testimonies being publicised, we still could talk about a movement at that time. It was a period of silence when I started to talk about my experiences – a time when nobody talked about these issues anymore. I made a statement on social media and shared my story. The abuser was the first director I worked with. As I saw the reactions, I decided to continue talking. After me, a few other actresses like me now living abroad made statements. Gradually the stories started to be shared, but it had not turned yet into a movement. We were trying to share our own stories and make our voices heard. I tried to reach out to all women who made statements. I wrote them on social media, sent e-mails, wanted to come together and talk. To be honest, I don't know exactly when the huge explosion happened, but at one point it happened. A few of my friends and I set up the me_too_movement_iran page on Instagram. We put our stories there and invited all women to share their stories. We told them that they were safe, we would never share their names if they didn't want to, and if they sent a recorded voice, we would change their voices so that they would not be recognized. Then the stories started coming in slowly. Stories continue to come from women from many different professions – from cinema and television to teachers and nurses. Now #MeToo has turned into a movement for Iranian women.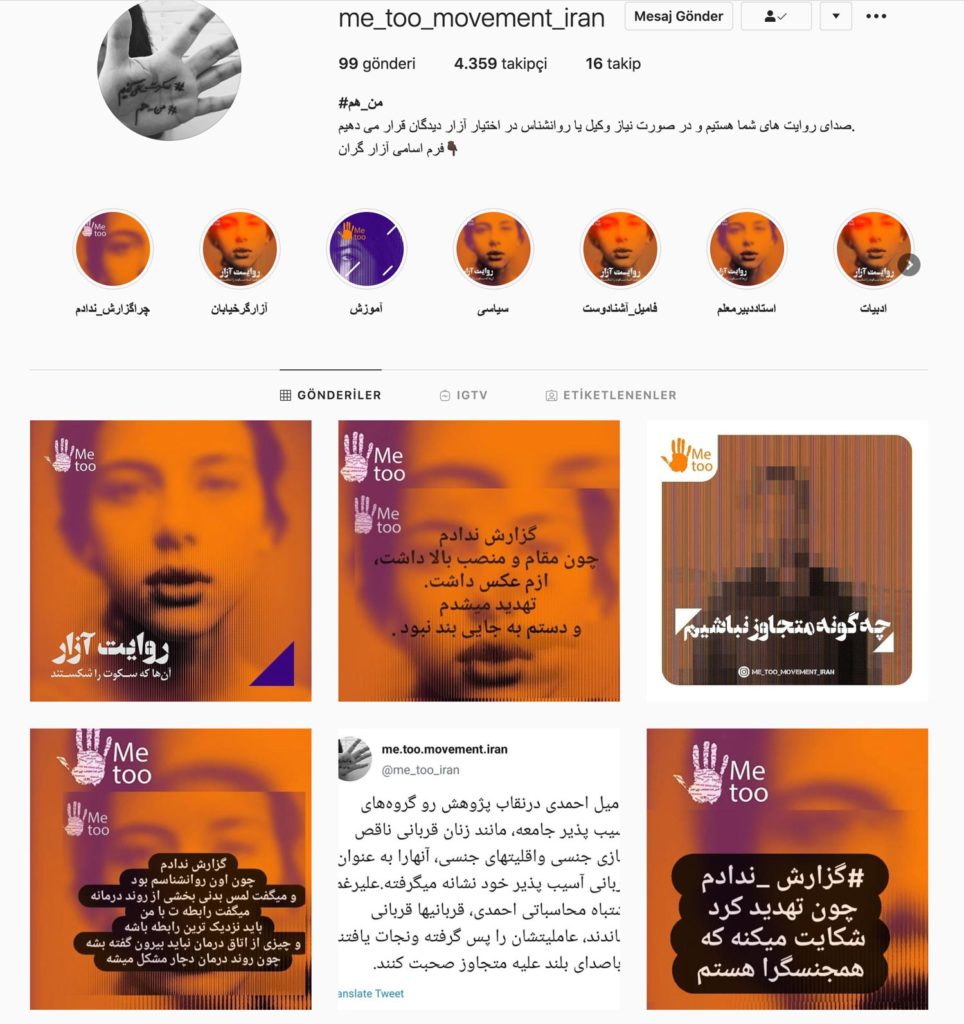 You told me that #MeToo has now turned into a movement in Iran. Where is this movement going? Where are women's organizations in this? Or, is the movement itself turning into an organization?
I think the #MeToo account we started on Instagram with my friend has turned into an organization. At least this is our goal and we are working to create such a movement, an organization. We have several goals. The first is, of course, to bring women together and make their voices heard. We also try to provide women with simple things we can do, such as free legal assistance, free psychological support, so on. Another goal is to make some legal changes. We are trying to force the government and fight in the legal arena with the strength we gather here. Our most important goal is to make the society and the government care for this issue. We really need to change the laws.
We can see many similarities between Turkey and Iran from what you describe. But there is a system in Iran that we don't know that much. Officially it is an Islamic republic; most of the laws somehow refer to religious rules. Can you explain what this means in everyday life? For example, what happens when a woman goes to court to sue a harasser?
Let me try to explain what is happening routinely in Iran. They routinely do not accept the existence of concepts such as abuse or assault. They only accept rape in the category of sexual violence. You can only go to court if you are a rape victim. Even then, you will need to prove your rape with certainty. How will you prove it? We are asked questions such as whether someone has seen a sexual intercourse, if the answer is no, the law does not recognize the victim. We are very angry about this. That's exactly why the predators feel safe.
I can give my own experience as an example. There are guards in Iran who control all social life, as well as cinema and media. Sometimes the guards come to see what is happening in the sets, but usually their control is for political purposes, checking if there is a political problem. Even if I approach these guards to say that this guy is harassing me, that I don't feel comfortable at my job, that I can't be alone for even a second because I'm scared if he gets in the makeup room, they can't legally do anything. I'm only 22 years old; I'm working on a big project. I can't even focus on what I'm doing; I can't focus on what I do for a second. But the guards can only tell me that they can't do anything legally and this is not rape. They can only give me some advice that my grandmother could give me – such as "don't go there" and "don't stay alone". But #MeToo has become so powerful that despite the restricted laws, even before the legal change has taken place, the judges could not ignore what had happened. Some courts that would not normally be opened were opened and men were sentenced. For example, there was a man who raped many women. This man went on a date with women; he put drugs in their drinks and raped them. According to Iranian law, everything these women did is wrong. Women went on a date with this man, consumed alcohol and went to his house. So all the blame and responsibility was actually on the women. If it weren't for #MeToo, no case would have been filed against this man. On the contrary, women would have been fired from the jury and would be threatened with arrest if they ever came back. However, this man was put on trial as a result of dozens of women making their voices heard and sharing their stories. This is just one example. Despite all this inequality before law, #MeToo is making changes. But these are very small gains. We basically need juridical changes.
So, how do you see the future of Iranian women, especially women in the film and television industry, after all that happened, the growing #MeToo movement?
I am very hopeful as long as I look very positive. We received so many attacks, so many bad words. We are told that we would not be successful, that we could not change anything. There are a lot of people attacking our movement and our activities from social media. Despite all this, I and the other women who participated in these studies are very hopeful. If you had asked me five years ago, I wouldn't have known what I would have said. But what happened now has given us a lot of strength. Especially I am very hopeful of the new generation of young women. As in all workplaces, working habits also change on sets. Slowly, but it's happening. Women need to make more space for themselves and take the main role. It's not just to get the title role as an actress, we need more female directors, we need female producers. We need women especially in these areas that can control money and power. Certainly, Iranian women are trying to enter and develop these areas. I am sure it is very difficult, because this definitely means to force the government and the state. But young women are resisting and changing very successfully. Even if we get prosecuted tomorrow, we will get up and try again the other day, and eventually change it. Especially when I look at the new generation, I am even more confident that they will change, for sure.
---
NOTES
1 After being publicly accused of sexual assault on social media by dozens of women, Keyvan Emamverdi got arrested in August 2020. Quite unusually, the Tehran police announced that they would not disclose the identities of women wanting to testify and that the accusers would not be prosecuted. In addition to this, the struggle of women sexually assaulted by the famous painter Aydin Aghdashloo and the anthropologist Kameel Ahmady, now living in England, continues.